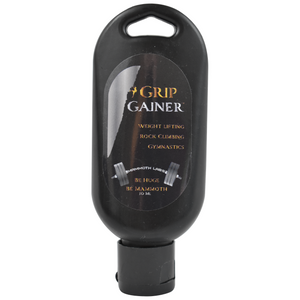 Get a grip with Grip Gainer™ Liquid Chalk!
Improve your grip over powdered chalk with  Grip Gainer™. This 2oz clip on container contains our novel liquid chalk formula that creates a  mess free even layer of chalk within seconds.
This product is allowed in establishments that have banned powdered chalk.
Directions:
Shake well before use.
Apply a small dab to the center of one palm and spread by rubbing your hands together. 
Allow 10 seconds to fully dry. 
To remove rinse your hands in water.