Crush Your Workout With Clinically Proven Formulas
A better workout Is 1 Click Away
The pre workout is some of the best I've ever tried. Great pumps, great taste, and no crash either.

Nolan, NY
After a long day of work, the preworkout is a workout saver in the gym. 1 scoop and I'm a ready to go.

Mike, Texas
The dragonfruit amino acids flavor is off the charts. They nailed it

Monica, California
Due to my achy joints from years of bodybuilding I wanted to give the aminos with joint support a shot and I am beyond satisfied with the results thus far.

Greg, Ohio
My new favorite preworkout! It tastes just like Vitamin Water XXX!

Jessica, Maine
I've been loving the single scoops of the preworkout. I'm not sure if I'm ready for two scoops yet!

James, NY
Took two scoops the other day and the pump I experienced was on another level.

Andrew, Virginia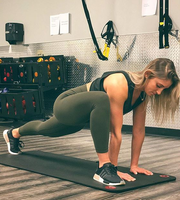 Our Promise
Founded in 2017 by a Chemical Engineer with a passion for fitness and a goal of making scientifically sound supplements, all ingredients and their respective biochemistry mechanisms in our formulas have been analyzed to ensure maximum potency.
While other company's sell products with ingredients in dosages less than the necessary amount to be effective or flat out include ingredients that have shown no benefit in clinical studies.
Our mission is clear, we want athletes around the world to crush their goals, raise the bar, be bigger than life,
Be Huge, Be Mammoth.
See the Science Behind Our Products
The Mammoth Labs Scholarship Fund
Our mission to move the world forward creates the need for us to be more than just a company, we must pave the way for the next generation of doctors, scientists, and other professionals to build upon the foundation, to improve the world. For this reason Mammoth Labs™ has founded the Mammoth Labs Scholarship Fund and pledges to contribute $1 per tub sale to give financial assistance to underprivileged college students.
Learn More